Joint injury can lead to osteoarthritis. People who experience sports or occupational injuries or have jobs with repetitive motions like repeated knee bending have more osteoarthritis. Avoid joint injury to reduce your risk of developing osteoarthritis.

The presence of the CDC logo and CDC content on this page should not be construed to imply endorsement by the US Government of any commercial products or services, or to replace the advice of a medical professional. The mark "CDC" is licensed under authority of the PHS.
Continue Learning about Arthritis Causes & Risks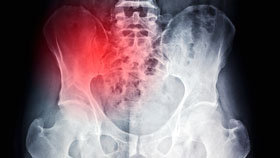 Risk factors for arthritis vary depending on the type, but in general, genetics and lifestyle are the dominant causes. Any kind of excessive stress or injury to the joints may increase your risk, affecting people who are overweigh...
t or who play sports. The risk for some types of arthritis increase with age. Women are more likely to have arthritis of the hands and knees, while men are more likely to have arthritis of the hips, knees and spine.
More