New innovations and technologies are allowing electrophysiologists to more effectively treat cardiac arrhythmias.
Medications
Medications remain the front-line treatment for abnormally fast heart rates including atrial fibrillation. Several new medicines allow physicians to stabilize the heartbeat and prevent serious complications by returning the heart to a normal rhythm and, if the arrhythmias continue, there are medications that prevent the heart from beating too quickly.


Non-Surgical Procedures
Electrical cardioversion is a non-surgical procedure used for patients who have persistent atrial fibrillation. It involves sending an electrical current through the chest wall to "reset" the heartbeat to a normal rhythm.
Implantable Devices include implantable cardioverter-defibrillators (ICDs) and pacemaker therapy. For patients with recurring heart rhythm disturbances, these implantable devices can provide automatic electrical therapy on a continual basis and prevent life threatening arrhythmias.
Catheter-Based Ablation is a procedure used to selectively eliminate (damage or get rid of) the heart cells causing the arrhythmia.
Surgery
When all other appropriate options, including minimally invasive surgical procedures, have failed, surgical treatment may be needed. Surgical ablation is a major surgical procedure requiring general anesthesia. The chest is opened, exposing the heart. The site of the arrhythmia is located, the tissue is destroyed or removed in order to eliminate the source of the arrhythmia. This is typically done at the time of a concurrent cardiac surgical procedure such as cardiac bypass surgery or valve repair/replacement.
Learn more at http://www.brighamandwomens.org/Departments_and_Services/medicine/services/cvcenter/arrhythmia/treatments.aspx.
The treatment for an arrhythmia depends upon the type of heart-rhythm disturbance you have and might include medication, lifestyle changes, and procedures such as:
Ablation therapy focusing on the atrioventricular node, the heart's upper or lower chambers, or regions outside the heart
Cardiac resynchronization therapy, also called CRT or biventricular pacing
An implantable cardioverter defibrillator, or ICD
Continue Learning about Arrhythmia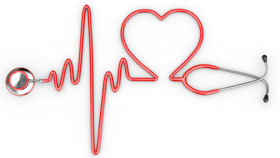 A type of heart disease, arrhythmia causes our hearts to beat too fast, too slow or with an irregular rhythm. Even though there are more than a dozen forms of arrhythmia, only a handful of reasons typically cause them. A common ca...
use is coronary artery disease, the most common type of heart disease that affects adults. An injury from a heart attack and changes in your heart muscle can also cause an arrhythmia.
More