Triceps kickbacks are great and can be combined with back rows, getting full bang for your buck!
Triceps Kickbacks - Grab a set of dumbbell, preferably 5-10 pounds. Stand tall with your shoulders down and back and chest tall. Bend forward at hips and knees keeping back flat. When you have gotten to a comfort level take the weights, row them along side until your bicep tricep part of your arm is glues to your sides. Once you have reached this level, take the weights and extend backwards making your triceps work! Be sure not to lockout elbows.
The tricep muscle is located on the back of your upper arm and is composed of three different heads. A different way to target this muscle is to sit on a stability ball with a pair of dumbbells. Holding the dumbbells with palms facing each other, raise your arms over your head. Keeping your upper arms steady, lower the dumbbells behind your head until your forearms are parallel to the floor. Hold, then return your arms to the start position. Remember to keep your abdominals drawn in and sit up straight on the ball. The stability ball will engage your core muscles while you focus on your triceps- a bonus!
There are 3 very good tricep exercises for beginners:
1. The Dip.
Sit on a bench, chair or other stable and sturdy device, put your hands on the edge of the seat shoulder-width apart.
Lift your buns off of the seat walking your feet slightly away from you (the farther you go the more advanced the move becomes)
Slowly lower your body down and lift back up. *Please make sure you have a good grip on the device you are using, keep your head up and chest elevated. Also, your knees should not bend past your toes.
2. Tricep Pull-down.
Face the machine (typically this move is done with a lat pull down bar or ropes on the machine) and grip the bar with your palms facing down. keep your grip close to the center of the bar; position the bar at about chest level.
Tuck the elbows in slightly, feet can either be at shoulder width apart or if you need more stabiliazation or balance you can position one foot in front, what ever is comfortable for you. *make sure your core is activated and that your head is elevated and your shoulders are relaxed and down (no shrugging).
Slowly and in control push the bar down until the elbows are fully extended.
Allow the bar to return to the starting position - slow and controlled without banging the weights together on return.
3. Bent-over Tricep Extensions
Bend over at the waist as close to a 90 degree angle as possible, with your arms at your side gripping dumbbell, (there are 2 grips: 1. palms facing backward and 2. palms facing in). *Remain in the bent position at all times*
Keep your arms in line with your back bent at the elbows. Activate your core, chest up and shoulders relaxed and back.
Extend the dumbbell backwards behind you.
Slowly lower the weights back down bending at the elbows and keeping your upper arm in line with your back.
Repeat.
Here is a good triceps exercise for beginners: Sit on the edge of the bench or a chair with a dumbbell in your right hand. Hold your right arm up so your elbow is by your ear. Let the weight down slowly behind your head, then straighten your arm slowly, until your arm is completely straight and the weight is above your head. As you do so, keep your elbow by your ear. You might want to support the elbow with your other hand. Lower and repeat 10 to 15 times. Switch hands and repeat 10 to 15 times.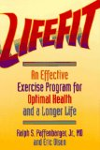 Continue Learning about Arm Exercises