A biceps curl is a resistance training exercise in which you use your biceps to curl a barbell or dumbbell and bend your arm at the elbow. Stand upright with your head facing forward eyes looking forward, and your torso in neutral alignment. Grip the bar or dumbbell with your palms facing up wards and your hands by the side of your hips. Breathe out as you contract your biceps to bend the elbow and curl the bar or dumbbell up to chest area inhale as you lower the bar or dumbbell back to your side.
Biceps curl strengthens and tones muscles on the front of your upper arm, making it easier to lift groceries and other things.
Stand in a good posture, your feet shoulder-width apart and arms by your sides, and hold a dumbbell in each hand. Keeping your upper arms and elbows tight by your side, slowly lift the dumbbells up to your shoulders, counting to three. Your palms are facing your shoulders but not touching them.
Pause for a breath and then slowly lower your arms to the starting position, counting to four. Repeat 12 times. Rest for a minute and then repeat 12 more times.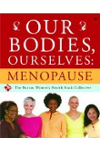 More About this Book
Our Bodies, Ourselves: Menopause
FROM THE EDITORS OF THE CLASSIC "BIBLE OF WOMEN'S HEALTH," A TRUSTWORTHY, UP-TO-DATE GUIDE TO HELP EVERY WOMAN NAVIGATE THE MENOPAUSE TRANSITION For decades, millions of women have relied on Our...
A barbell curl is a sagittal plane resistance exercise performed by flexing and extending either a dumbbell, barbell, or resistance band. Bicep curls primarily work the biceps, however you can perform bicep curls with other movements to add dimension to your workout. AN example might be a dumbbell squat to curl; alternating dumbbell lunges to bicep curl; step ups to bicep curl with a shoulder press.
Continue Learning about Arm Exercises