Tighter firmer arms are a product of low body fat and some level of muscle hypertrophy. I would suggest first take a look at your body fat as a whole. If you feel like you need to reduce a little then simply begin a smart eating and exercise program. If you are pretty lean then you simply need to grow the musculature of your arms. This means a smart training program. Both can be accomplished with some simple diligence and consistency.
Will make this extremely simple and then would suggest that you look at some of the other posts on this question or seek the best exercises for you and your enjoyment.
Toning your arms comes down to 2 very basic things.
Build muscle in your arms
Lose overall body fat
The exercises can vary but any sort of building of muscle will result in the increased shape to the arm and when you get leaner the definition will look better and so will the shape. The only thing that you cannot control which will change the way the arm works is the skin and its elasticity
This question is often presented and the answer is not always the easiest. Unfortunately, spot training does not exist. You will be able to lose weight in certain areas very easily and other areas are very difficult, i.e. your arms. What you need to focus on is strengthening your entire body and eating balanced and nutritional meals. If you are able to complete both of these items then do not worry, your arms will get tighter and firmer but be patient these things take time.
As a trainer you here this question often, and the answer always surprises my clients. A first thought to this would be add more arm exercises but this is not entirely correct. Individuals focusing on total body workouts will get results faster. In truth there is no magic exercise or cure. Although just focusing on your arms will gain lean muscle in that area, it limits the caloric burn. Focusing on a balanced program will burn more calories and lean body mass everywhere. The more lean body mass you have the more calories you burn on a daily basis. The end result is leaner arms quicker than just focusing on arm exercises
Of course most people want tight toned body. A lot of times its not what you have to workout to get it but where your nutrional and cardiovascular program lie. Eighty percent of your goal is nutrition. So if you have fat covering up those areas you want to see toned this is one of the key parts to start with. Knowing what you put in your body compared to what you are burning will help. If you don't drop the body fat you will never see the toned look. As for exercises many chest exercise already workout those triceps however there many many exercises for the triceps you can do alone. Examples like the triceps pressdown, overhead extension, kickbacks and dips. Remember everything must work together to see those toned muscles. Make sure you have a proper nutritional program, cardiovascular program and reistance training program to see the results you are looking for.
Side Triceps Lifts. Lie on your right side with your right arm underneath you and right forearm across your belly and your right hand on your left oblique. Put your left hand flat out in front of you. Press that palm down and lift your upper body off the ground. The higher you come the more you burn your triceps-give me 2 sets of 25. Really isolate that triceps.
Continue Learning about Arm Exercises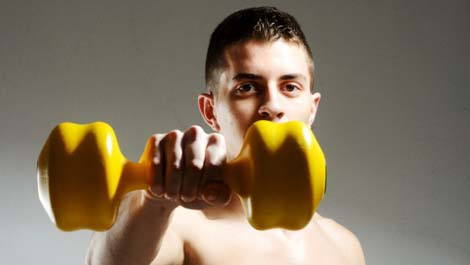 Push-ups, chair dips and bench presses are a few of the arm exercises that give you leaner and stronger muscles. Exercises can target shoulders, biceps, triceps and forearms.