If your child complains about constant pain in the lower part of her belly, you should pay attention because this might be a sign of appendicitis. Almost always, the pain is felt first around the belly button. After several hours, as the infection gets worse, the pain may be more intense in the lower right side.

Other common signs are vomiting (throwing up), fever, loss of appetite, and diarrhea. The child usually vomits after complaining of pain, not before (as in the flu). Small children may not speak about their symptoms but may be fussy and might not want to move around as they normally do.

If you think that your child might have appendicitis, take her to the doctor as soon as possible. The doctor will give your child a physical exam to see if it is appendicitis.

If you can't get an appointment with your doctor soon and your child seems to be getting more upset or be in more pain, take her to the emergency room at the nearest hospital.
Typically, the signs and symptoms of appendicitis are tummy pain that starts around the belly button and over several hours moves to the lower right part of the belly. A child will cry or say it hurts when that area is pushed on. In addition, a child may have a fever, vomit, and not want to eat a favorite food if offered. Asking a toddler to jump can provide another clue. If it's appendicitis, most people--toddlers and adults alike--won't jump because it hurts when they do.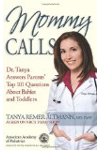 Continue Learning about Appendicitis