It is our constant worrying about the past and future that causes many of us to never live our lives. It also causes much unnecessary suffering and keeps us from being happy. In my decades of work as a physician, I came to realize that a lot of people's illness were caused by them taking things much too seriously. Excess stress can take a heavy toll on our body, mind, and emotions. This is unnecessary, because most of our stress comes from worrying about things that are in the past (that we cannot do anything about) or worrying about things in the future that never come to pass. If you listen to your mental chatter for a while, you will find that this is often so. Nonetheless, your psyche often experiences these worries as if they are actually happening.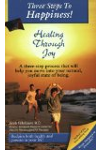 More About this Book
Three Steps to Happiness! Healing Through Joy
Happiness is our natural state of being. It is who we are. This happiness is obvious when you look at little children before they take on society's beliefs. Their natural state is to feel all of...
Worrying about the past and the future actually keeps you from being in the moment, and you will miss what's happening in your life right now. In this video, psychotherapist Stacy Kaiser explains why it's important to focus on the present time.
Continue Learning about Anxiety