These days it seems for many kids -- even if they've studied hard and done their homework -- when test day comes they're hit with a wave of panic. Butterflies hit their stomach and their heads are filled with a wave of negative thoughts: "I'm going to flunk." "I'm so dumb." And then their mind goes blank.

Diagnosis: "Test Anxiety." It's a growing new condition for students these days. Almost 20 percent of tweens and teens experience test anxiety, but with today's high-stakes testing, the condition is being diagnosed in even our youngest students.

Make no mistake, test-taking anxiety can be costly to our children's academic success as well as their emotional and physical well-being. What's more, stress from test anxiety can reduce kids' ability to focus and cause them to even "choke" on those answers that they studied for.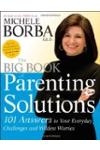 Continue Learning about Anxiety