Interacting with a dog is a great stress reliever, resulting in relaxation and reduced anxiety. In one study, anxiety was measured in college students. Anxiety levels dropped by about ten percent when the students were allowed to pet and talk to a dog. Dogs also provide a buffer against bad health effects from stress. Dog owners are less likely to need attention for medical complaints during times of stress compared with non-owners.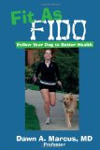 More About this Book
Fit As Fido: Follow Your Dog to Better Health
Let your dog teach you to live a happier, healthier, and more fulfilling life! Companionship with your pet can be used as a means and a motivator to increase your own physical and mental fitness....
Continue Learning about Anxiety Disorders Treatment