Flavonoids are among the most anti-inflammatory of all antioxidants, found in dark purple and blue berries and fruits. Watch as nutrition expert Shawn Talbott, PhD, explains how flavonoids can reduce pain, inflammation and the risk for many diseases.
Only approximately 16 choices in nutrition have been shown to make a difference in mortality rates; consumption of flavonoids is one. Flavonoids decrease the rate of arterial and immune aging. These substances are like vitamins but, unlike vitamins, are not essential for life. Flavonoids are powerful antioxidants, even more powerful than vitamins C and E combined. They also have anti-inflammatory effects that help keep our immune system young.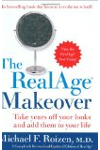 Continue Learning about Antioxidants

Antioxidants help your body repair cells damaged by free radicals. The most common antioxidants are beta-carotene, lycopene and vitamins A, C and E. Antioxidants can also be found in fruits, vegetables and teas. Most experts belie...
ve that getting antioxidants from food is the most healthful way to obtain them but they may also be taken as supplements.
More