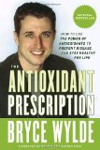 In July 2006, a collaboration of Norwegian and U.S. scientists led by Nebte Halvorsen produced the largest ranking of antioxidant foods to date: over a thousand foods were studied, including processed foods and fresh fruits and vegetables.

Blackberries are at the top of their list, with an antioxidant content of 5.75 millimoles per serving (millimoles are a measure of the amount of electrons/hydrogen atoms).

The other antioxidant foods that make their top ten are walnuts, strawberries, artichokes, cranberries, coffee, raspberries, pecans, blueberries, and ground cloves.