We cannot stop free radicals completely. Yet we can reduce their pro-inflammatory effect on the body by eating foods high in powerful antioxidants -- plant chemicals that scavenge and neutralize the free radicals.

So far, the known antioxidants include vitamin C, vitamin E, selenium, the carotenoids, which have immune-boosting properties, and the flavonoids, plant compounds that reportedly have antiviral, anti-inflammatory, and antitumor activities.

A deluge of scientific studies reveal that many compounds found in fruits, vegetables, and even whole grains also have antioxidant properties -- some more potent than others.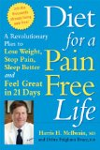 Continue Learning about Antioxidants