High-cocoa chocolate is a particularly potent antioxidant. Cells incubated with cocoa extract or its main antioxidant, epicatechin, lower the amount of reactive oxygen species (ROS) waste produced by your cells. In other words, the more epicatechin present, the lower the levels of damaging ROS. The biggest health benefit of the antioxidants in cocoa is that the accumulation of cellular waste can be prevented before it starts.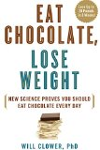 More About this Book
Eat Chocolate, Lose Weight: New Science Proves You Should Eat Chocolate Every Day
Did You Know that People Who Eat Chocolate Every Day Weigh Less than Those Who Don't?Eat Chocolate, Lose Weight is a game-changing look at the world's most surprising (and luscious) health food: chocolate.Based on new groundbreaking research and the amazing results of his clients, who have lost more than 100 pounds, nutritionist and neuroscientist Dr. Will Clower dispels the myth that chocolate is just a "junk food" by revealing how this succulent food contains healthy antioxidants that can actually help you lose weight.All you have to do is take the Chocolate Challenge: an 8-week plan that reveals which type of chocolate is the healthiest and exactly how you should be eating it to maximize all of its surprising health benefits, including:Weight loss of up to 20 pounds in 8 weeksReduced food cravings and appetitePrevention and reversal of diabetesImproved dental healthSignificant improvement in blood pressureEnhanced energy levels (up to 50%!)Increased skin moisture and UV protectionAnd more!With Eat Chocolate, Lose Weight, Dr. Clower is finally bringing his incredibly successful—and delicious—plan to chocolate lovers everywhere!
Continue Learning about Antioxidants