Symlin is an injectable medication that's used to help control blood sugar levels in adults with type 1 and type 2 diabetes. When insulin alone does not effectively control blood sugar levels, Symlin may be added to the treatment plan. Symlin works by slowing the rate at which food moves out of the stomach, which helps control the rate at which sugar enters your blood stream. It also decreases the amount of sugar produced by the liver. Symlin may also help reduce appetite, which can help with weight management. The dosage your doctor recommends will depend on which type of diabetes you have. Make sure you take Symlin exactly as your doctor prescribes. It's important to continue taking your regular insulin while taking Symlin, but you should never combine the two medications in the same syringe.
Talk with your doctor about whether this medicine might help you control your blood sugar levels.
Pramlintide (brand name Symlin) is a synthetic form of the hormone amylin, which is produced along with insulin by the beta cells in the pancreas. Amylin, insulin and another hormone, glucagon, work in an interrelated fashion to maintain normal blood glucose levels.
Pramlintide injections taken with meals have been shown to modestly improve A1C levels without causing increased hypoglycemia or weight gain and even promote modest weight loss. The primary side effect is nausea, which tends to improve over time and as an individual patient determines his or her optimal dose.
Because of differences in chemistry, pramlintide cannot be combined in the same vial or syringe with insulin and must be injected separately. Pramlintide has been approved for people with type 1 diabetes who are not achieving their goal A1C levels and for people with type 2 diabetes who are using insulin and are not achieving their A1C goals.
The only medication specifically approved by the FDA for treating those with type 1 diabetes other than insulin is Symlin. Symlin has several effects in those with type 1 diabetes, including reducing the meal-related release of glucagon, a hormone that raises blood sugar levels. This helps control the rise in glucose after meals, and many patients who use Symlin along with insulin find that their blood glucose levels fluctuate less than with insulin alone. Symlin also slows stomach emptying and helps people feel full more quickly. As a result, it sometimes helps people with type 1 diabetes lose weight.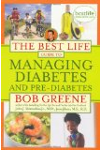 Continue Learning about Antidiabetic