Byetta is an injectable insulin treatment for people with type 2 diabetes only. Byetta belongs to a class of drugs called incretins. Byetta works by providing extra GLP-1 (well, technically a synthetic version called a mimetic), overwhelming the DPP-4 in the same way insulin shots overwhelm insulin resistance.

Like insulin, Byetta comes in a pen. Like metformin, you need to start with a smaller dose.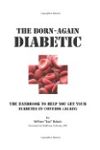 Byetta is for type 2 diabetes. Unlike injectable insulin, which just supplements the insulin your body naturally produces, Byetta causes your pancreas to release more insulin and slows down stomach emptying. Because it is not insulin, it is not used in type 1 diabetes. It is an injection.
Continue Learning about Antidiabetic