Selective serotonin reuptake inhibitors (SSRIs) are the most commonly prescribed antidepressants because they have been proven effective and safe for most people. SSRIs work by increasing the availability of the neurotransmitter serotonin in the brain. Common side effects of SSRIs include nausea, headaches, fatigue, and sexual dysfunction. Sexual side effects with antidepressants occur in about 14 to 39 percent of people being treated. The specific side effect is inorgasmia (difficulty achieving an orgasm). Impotency is very rare.

Serotonin and norepinephrine reuptake inhibitors (SNRIs) are a relatively new class of drugs and work by increasing the availability of both serotonin and norepinephrine. Side effects can include nausea, anxiety, fatigue, and sexual dysfunction.

Atypical antidepressants include Wellbutrin (bupropion), which works by increasing levels of the neurotransmitters norepinephrine and dopamine, and Remeron (mirtazapine), which increases levels of serotonin and norepinephrine. The side effects of Wellbutrin can include irritability, headaches, insomnia, and stomach upset, although the sexual problems and weight gain found with other antidepressants occur less frequently with this drug. The side effects of Remeron may include weight gain, an increased appetite, sleepiness, and dizziness.

Tricyclic antidepressants (TCAs) are drugs that are often used when other classes of antidepressants have been tried without success. They work by increasing the available levels of serotonin or norepinephrine, but they can have significant side effects and drug interactions, and it is possible to overdose on them. Common side effects include sedation, dry mouth, blurry vision, constipation, urination problems, rapid heartbeat, and light-headedness.

Monoamine oxidase inhibitors (MAOIs) are medications that were developed in the mid-1950s and include some of the earliest drugs used to treat depression. This class of drugs is most often used for depression that doesn't respond to the other types of drugs; they work by blocking the enzyme monoamine oxidase from breaking down neurochemicals in the brain that are responsible for mood changes. MAOIs are not commonly prescribed because they can have serious interactions with foods such as red wine, chocolate, cheese, and certain meats that contain the compound tyramine (for example, bologna, salami, and Spam). However, MAOIs are often effective treatments for difficult-to-treat depression.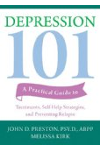 Continue Learning about Antidepressant