Using antibacterial soap too often may make your hands dry.
And if you've ever taken antibiotics, you've probably experienced the discomfort of diarrhea or a runaway yeast infection—the impact of the temporary disruption of the normal bacteria in your body. When you kill off the normal beneficial bacteria with antibiotics, less desirable bacteria and yeast can grow.
So what happens when you use antibacterial cleaners? The usual sea of microbes in the environment is temporarily disrupted. You kill the weakest germs, giving the survivors free reign to multiply and fill the void. If those stronger germs are pathogenic (the type that cause disease), you've just enabled more toxic germs to inhabit the area you've cleaned. So, by killing the good germs and allowing the bad germs to flourish, you are exposed to more (and stronger), not fewer, germs and sicknesses.
Instead of using antibacterial products for routine cleanup, use soap and water. To disinfect areas contaminated during a serious illness, try a solution of chlorine bleach in water (about 1/4 cup of household bleach to 1 gallon of water). This mild solution is also perfect for cleaning up spills and disinfecting laundry. (Before using the solution, test a small area to make sure it doesn't damage the fabric or surface you're going to apply it to, and make sure to let the fumes dissipate before allowing children back into the area.)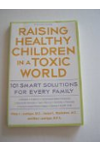 Continue Learning about Antibacterial