Accolate is a very popular asthma medicine, but It has to be taken twice a day, hours before and after meals. You can't wake a child up hours before breakfast every day to give him a drug or keep him up for hours after dinner. And are you going to trust your child to take the medicine in the middle of her morning at school, or in midafternoon? Good luck. Even adults have trouble with this restriction. So just remember, every time something comes on the market as the greatest thing since sliced bread, sooner or later it will get stale.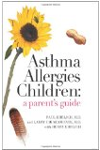 More About this Book
Asthma Allergies Children: A Parent's Guide
Asthma and allergies are at epidemic proportions. It doesn't have to be that way. Two experienced pediatric allergists tell everything a conscientious parent needs to know about these conditions,...
Continue Learning about Antiasthma