A combination of salmeterol and fluticasone known as Advair is available in dry-powder formulation that is inhaled using a Diskus device. It is available in different strengths, but only the corticosteroid strength changes, not the salmeterol. Its ease of use (one inhalation twice daily) favors good compliance, however the fixed combination makes flexibility more difficult when more steroids are needed to treat acute asthma flares. This medication is not approved for children under the age of 12. We must emphasize that Advair is not a remedy for acute asthma.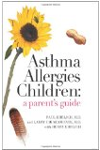 More About this Book
Asthma Allergies Children: A Parent's Guide
Asthma and allergies are at epidemic proportions. It doesn't have to be that way. Two experienced pediatric allergists tell everything a conscientious parent needs to know about these conditions,...
Continue Learning about Antiasthma