Accolate, which is an anti-leukotriene, might be useful situationally for hives without the long-term discipline necessary when using it for asthma - the regular indication for this drug. Leukotrienes are released by cells after the first assault of histamines, and hives are one of the products of leukotrienes. Thus, a short course of anti-leukotrienes can combat the itching of hives, their inflammatory effect, and the potential for scarring that not only ensues from the eruption itself but from a child's overpowering urge to scratch.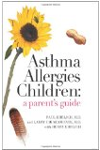 More About this Book
Asthma Allergies Children: A Parent's Guide
Asthma and allergies are at epidemic proportions. It doesn't have to be that way. Two experienced pediatric allergists tell everything a conscientious parent needs to know about these conditions,...
Continue Learning about Antiasthma