Isotretinoin is an oral retinoid, meaning that it is in the vitamin A family of compounds. For this reason, many of the side effects that we see from isotretinoin are similar to the effects that we see from taking toxic doses of vitamin A. Isotretinoin is considered an appropriate treatment for people who have severe nodular acne and moderate or severe acne that has not responded to oral antibiotics and topical treatment. Virtually all dermatologists also prescribe oral isotretinoin for moderate-to-severe acne that scars physically and psychologically, inflammatory acne that does not respond to conventional therapy, and chronic acne that keeps recurring after any given treatment.

With the advent of oral isotretinoin (sold under the trade name of Accutane) and now also as a generic (known as Sotret), severe, scarring acne that often left a lifetime of physical and psychologic scars has become a much less frequently observed occurrence. Oral isotretinoin is the first-line treatment in severe acne and may also be used in people who have failed conventional treatment, such as a combination of topical retinoids, benzoyl peroxide, topical or systemic antibiotics, and when appropriate, hormonal therapies.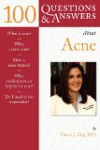 More About this Book
100 Questions & Answers About Acne
100 Questions and Answers About Acne provides you with all the information you need to manage your complexion problems. Written by Dr. Doris J. Day, a world-class expert in the field, this clearly...
Continue Learning about Antiacne