The main limitation of benzoyl peroxide for some acne patients is concentration-dependent stinging, irritation of the skin, contact dermatitis, dryness, and bleaching fabric or hair it comes in contact with. The irritant/contact reaction in the skin is seen as redness, scaling and itching, or burning. These side effects usually occur within the first days to weeks of treatment and improve with continued use of the product. It is known to bleach hair, clothes, and bed linens that it comes in contact with, and this must be taken into consideration as a risk when this treatment is considered.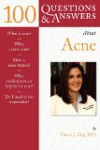 More About this Book
100 Questions & Answers About Acne
100 Questions and Answers About Acne provides you with all the information you need to manage your complexion problems. Written by Dr. Doris J. Day, a world-class expert in the field, this clearly...
Continue Learning about Antiacne