Oral isotretinoin is a potent teratogen, meaning that it is well known to cause birth defects in children whose mothers get pregnant while taking oral isotretinoin or within 1 month after stopping isotretinoin. For this reason, any woman of child-bearing potential who plans on taking isotretinoin must have a negative pregnancy test before starting treatment and for at least 1 month after therapy. Adequate contraception is essential, and the importance of this cannot be overstated before and during treatment as well as for 6 weeks after discontinuing treatment. Therapy should start on the first, second, or third day of the menstrual period once the results of two negative pregnancy tests have been obtained.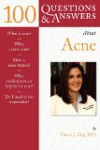 More About this Book
100 Questions & Answers About Acne
100 Questions and Answers About Acne provides you with all the information you need to manage your complexion problems. Written by Dr. Doris J. Day, a world-class expert in the field, this clearly...
Continue Learning about Antiacne