Because oral isotretinoin is metabolized or digested by the liver, as is alcohol, you should try to avoid drinking alcohol while on oral isotretinoin therapy. There have been reports of liver function abnormalities that may have been related to the drug, most of which improved with either continued administration of the drug or after the medication was stopped. The published reports have been nearly unanimous in showing the lack of isotretinoin-induced liver damage of any kind. However, regular blood tests are still routinely done to ensure normal liver-function values.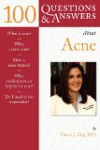 More About this Book
100 Questions & Answers About Acne
100 Questions and Answers About Acne provides you with all the information you need to manage your complexion problems. Written by Dr. Doris J. Day, a world-class expert in the field, this clearly...
Continue Learning about Antiacne