It is important for both the person taking isotretinoin and for family members to be educated regarding the potential for mood swings and depression during isotretinoin therapy. In most cases, psychosocial events associated with severe acne most often improve once the acne starts to clear; however, in some people with acne who have depression or a tendency toward depression, their psychologic outlook does not improve with the acne treatment. This may be due to several different reasons; however, oral isotretinoin should be discontinued in these cases, and treatment should be instituted for the depression as needed.
Some physicians definitely believe that oral isotretinoin does produce, very occasionally but unpredictably, significant mood changes, depression, and other significant psychiatric side effects. It is very important to discuss these issues with your doctor and to also let your doctor know whether you have been treated in the past for depression or suicide attempts or whether you have a family history of depression.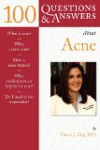 More About this Book
100 Questions & Answers About Acne
100 Questions and Answers About Acne provides you with all the information you need to manage your complexion problems. Written by Dr. Doris J. Day, a world-class expert in the field, this clearly...
Continue Learning about Antiacne