Benzoyl peroxide (BP) is a staple of acne treatment in the United States. It is a safe and effective product for treating acne. It is available in a variety of formulations and concentrations, ranging from 1% to 10%. The gel formulations are generally more stable and are preferable to the creams and lotions. They also allow for a more consistent release of the active ingredient. BP cleansers are useful for application to large areas such as the chest and back and can conveniently be used in the shower.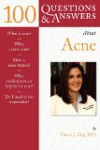 More About this Book
100 Questions & Answers About Acne
100 Questions and Answers About Acne provides you with all the information you need to manage your complexion problems. Written by Dr. Doris J. Day, a world-class expert in the field, this clearly...
Continue Learning about Antiacne