Aczone, a new topical gel that contains a medicine called dapsone, is believed to be an effective antibacterial and anti-inflammatory when used in combination with other acne treatments. This means it helps in both reducing the number of acne lesions and helping to decrease the redness associated with existing acne lesions.
Oral dapsone was initially used as a treatment for malaria. It has since also been used for a variety of dermatologic and other medical conditions with sometimes excellent results. It can have serious side effects when taken by mouth and would therefore not be ideal for the treatment of acne. However, the topical form has been shown to be safe and is now being tested for efficacy in the treatment of acne. Dapsone can also be used with other topical or oral medications in the treatment of acne.
There are also a new combination of drugs called Ziana and Veltin that contain clindamycin with tretinoin .025%, again going with the idea that most of us want as simple and complete a routine as possible.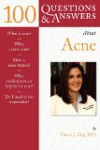 More About this Book
100 Questions & Answers About Acne
100 Questions and Answers About Acne provides you with all the information you need to manage your complexion problems. Written by Dr. Doris J. Day, a world-class expert in the field, this clearly...
Continue Learning about Anti-Infective Agent