Apparently the coffee plantations of Costa Rica are filled with coffee pickers who have sun-damaged and wrinkled faces but hands as smooth as a baby's bottom. Scientists noticed this and realized there was a powerful antioxidant in the fruit of the coffee plant that was decreasing fine lines and wrinkles, and reducing redness in the workers' hands. Now they've isolated that antioxidant and put it into a lotion that can be applied to the whole face.
This content originally appeared on
doctoroz.com
Continue Learning about Anti-Aging Skin Care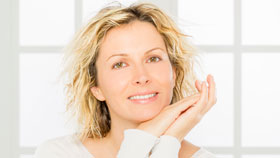 The science of anti-aging has come a long way. Learn how to slow aging, feel and look younger and keep your skin in great condition.