A lot of women cake on too much make-up in an effort to mask wrinkles and imperfections. That's a mistake. Look for a luminous, moist foundation with sunscreen protection that will give you a smoother, glowing look. Also, try out different eye-shadows to see which ones stay put rather than slithering into creases and folds. And take advantage of the new lines of long-lasting lipsticks that don't smear or run into fine lines around the mouth. In addition, pay attention to your coloring. If you've decided to be let your hair go silver, change your make-up palette accordingly. Why not get a consultation from a make-up artist, either at a department store, a salon, or a spa? There's nothing like professional advice to steer you toward just the right make-up textures and shades to make the most of your looks.

Continue Learning about Anti-Aging Skin Care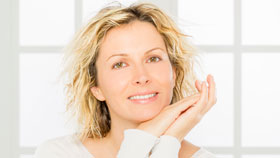 The science of anti-aging has come a long way. Learn how to slow aging, feel and look younger and keep your skin in great condition.