Women who shield their skin from the sun with a daily sunscreen look younger, have fewer wrinkles and smoother, evenly toned complexions. That's because the sun's ultra-violet rays are the number one culprit for damaging collagen—the support structure of the skin.
Use a daily moisturizer with SPF 30, which contains potent sunscreen ingredients such as avobenzone, zinc oxide or titanium dioxide, recommends David Bank, MD, director of The Center for Dermatology, Cosmetic and Laser Surgery in Mount Kisco, NY. Use it every day—whether the forecast calls for sun or clouds. According to the American Academy of Dermatology, up to 80 percent of UV rays can pass through clouds.
Continue Learning about Anti-Aging Skin Care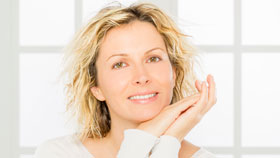 The science of anti-aging has come a long way. Learn how to slow aging, feel and look younger and keep your skin in great condition.