While there may be some benefits to anti-wrinkle creams, it's much more effective to protect your skin's health in other ways. Preventative measures may include protecting your skin from excessive sun exposure, quitting smoking, and following good general skincare habits. If you do decide to use them, there are some things to look for in an anti-wrinkle cream. Retinol, tea extracts, kinetin, hydroxy acids, and copper peptides are active ingredients in wrinkle creams that may help reduce wrinkles slightly. It is important to note that some of these ingredients may have side effects, and you may not see substantial results. Generally, anti-wrinkle creams should only be a small part of your skin care regimen if you do decide to use them.
Continue Learning about Anti-Aging Skin Care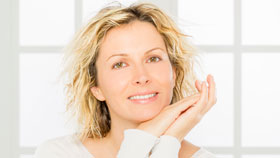 The science of anti-aging has come a long way. Learn how to slow aging, feel and look younger and keep your skin in great condition.