Angina pectoris is called unstable when the chest discomfort changes--if it happens for the first time or when it becomes more frequent or longer lasting. Being aware of this change is important because it means danger with a higher risk of sudden worsening of the coronary heart disease at this time.
In unstable angina pectoris, the chest discomfort may happen more often or with much less activity or less exertion than before. It commonly happens with no activity at all--even awakening from sleep. Unstable angina pectoris can happen after a heart attack or in a patient who has already had coronary heart disease such as coronary artery surgery.

Unstable angina pectoris can happen suddenly with no specific cause, even when you have done everything as prescribed. Patients need immediate medical attention and hospitalization during any of the above types of unstable angina pectoris or prolonged chest pain.
Researchers have found that in unstable angina pectoris there is usually a sudden decrease in the blood flow in a coronary artery. This can happen from a small crack or fissure in the wall of the artery. The fissure causes a reaction nearby which results in a clot in the artery with temporary blockage of the blood flow.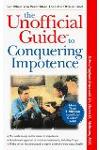 More About this Book
Unofficial Guide to Impotence
The Unofficial Guide to Conquering Impotence delivers the inside scoop on impotence: the truth about Viagra, what treatments really work, and how lifestyle changes can aid in conquering...
Continue Learning about Angina