Be sure you understand what to expect about the anesthesia that you'll be given prior to your surgery. Some people experience significant post-operative side effects and other problems resulting from their anesthesia.
Ask, "What kind of drugs will I be given?", "How will the drugs be administrated?" and "What are the risks with this type of anesthesia?"
If you haven't met your anesthesiologist during a separate, pre-surgery interview, insist on meeting him or her immediately before your surgery—and before he puts you to sleep!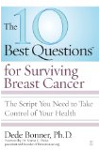 Continue Learning about Anesthesia for Surgical Procedures