Anemia occurs when you have less than the normal number of red blood cells in your blood or when the red blood cells in your blood don't have enough hemoglobin. Hemoglobin is a protein. It gives the red color to your blood. Its main job is to carry oxygen from your lungs to all parts of your body. If you have anemia, your blood does not carry enough oxygen to all the parts of your body. Without oxygen, your organs and tissues cannot work as well as they should.

This answer is based on source information from the National Women's Health Information Center.
Continue Learning about Anemia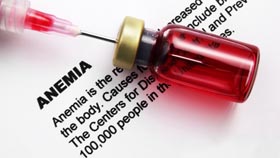 Anemia is the most common blood condition in the U.S. Anemia causes fatigue, weakness and shortness of breath. Although there are more than 400 types of anemia, they all have this same theme.