Hemodialysis, one of the two types of dialysis treatment, can sometimes lead to anemia, which is indicated by low red blood cell count. Red blood cells are responsible for providing you with energy (and that rosy color in your cheeks), so anemia can cause tiredness and a pale color. If you are undergoing hemodialysis, you may experience some blood loss, which can lead to anemia. Talk to your doctor about what to do if you experience the symptoms of anemia.
Continue Learning about Anemia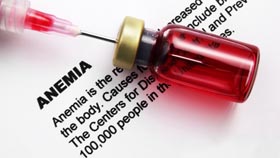 Anemia is the most common blood condition in the U.S. Anemia causes fatigue, weakness and shortness of breath. Although there are more than 400 types of anemia, they all have this same theme.