A person can be anemic and have too much iron at the same time because there are a number of different causes of anemia. Only one cause is due to low iron stores or blood loss (which also presents with low iron stores). Sometimes, people who are chronically ill can also have anemia. With this type of anemia they will have excessive iron stores but are not mobilizing adequate amounts of iron.
Yet another cause of anemia is due to inadequate amounts of vitamin B12 or folate. If you are manifesting any signs of anemia please contact your doctor immediately for further evaluation.
Continue Learning about Anemia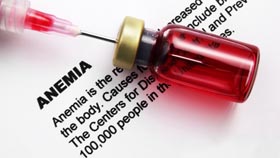 Anemia is the most common blood condition in the U.S. Anemia causes fatigue, weakness and shortness of breath. Although there are more than 400 types of anemia, they all have this same theme.