Recently, there has been significant interest in the use of testosterone to treat low sexual desire in women. There is some evidence from clinical trials that a postmenopausal woman who takes testosterone experience increased libido.
A randomized study in 2003 on women who had their ovaries removed and were taking estrogen found that using a testosterone skin patch led to some improvement in sexual desire and activity. But in 2004, a Food and Drug Administration (FDA) advisory committee recommended against approval of a testosterone patch for women because there has not been enough research on the safety of long-term use. Potential safety concerns include increased risk of heart disease and breast cancer.
The limited research that has been done on the safety of testosterone use by women is not conclusive, but it raises several concerns. More than one study has shown that women who have higher natural levels of testosterone are more likely to get breast cancer; among women who have had breast cancer, those with higher testosterone levels are more likely to experience a recurrence. There is also some research indicating that testosterone use may cause an increase in heart disease. Additional research is needed to explore these potential risks.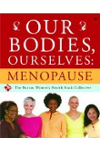 More About this Book
Our Bodies, Ourselves: Menopause
FROM THE EDITORS OF THE CLASSIC "BIBLE OF WOMEN'S HEALTH," A TRUSTWORTHY, UP-TO-DATE GUIDE TO HELP EVERY WOMAN NAVIGATE THE MENOPAUSE TRANSITION For decades, millions of women have relied on Our...
Continue Learning about Androgen