Dehydroepiandrosterone (DHEA) is a hormone that is a precursor (a forerunner) to androgens and estrogen. The body breaks DHEA down into the sex hormones. Men who take DHEA report feeling more youthful, with increased energy and revived libido. "I feel like I'm twenty again," says one sixty-year-old convert. "My wife has that sparkle back in her eye," says another. Unfortunately, a feeling of vigor and well-being does not mean that DHEA can't cause real damage. There is a multitude of drugs (such as many illegal street drugs like cocaine and heroin) that make you feel good, but are actually bad for your health. DHEA might make you feel younger now, but we just don't know how it might affect your RealAge (physiologic age) in the long run. It may well make you older.

In the so-called "Rancho-Bernardo" study (conducted in Rancho Bernardo, California), which has been the most significant study on the effect of DHEA on aging to date, researchers found that over a twelve-year period, men whose naturally occurring DHEA levels remained high had a 40 percent lower risk of heart disease and arterial aging. This was initially very promising. However, the follow up study that covered nineteen years reported a much reduced benefit for having an elevated DHEA level. In this study, the risk was only 14 percent less. In RealAge terms, that means the benefit of DHEA, at most, might be only 1 1/2 years. Subsequent randomized studies have found no definite benefit. With regard to arterial aging, some of the studies found a benefit; some, a harm; and most, no effect at all.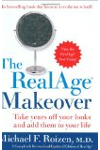 Dehydroepiandrosterone (DHEA) may be able to temporarily slow some aspects of the aging process but that might not be a good idea. DHEA is only one hormone (known as a pro-hormone) out of many like testosterone, androstenedione, estrogen, etc., which all work together; meaning each one's production affects the others. DHEA can be converted to any of them, including estrogen. Therefore by raising one, you may be raising or lowering another leading to eventual unwanted consequences. Studies have been mixed about DHEA's ability increase muscle building, strength, memory and lifespan. At this time it should be treated as a drug and not a supplement. That way only a doctor could give it to you, allowing him/her to monitor all the hormone levels and adjust or discontinue as necessary. Otherwise you are rolling the dice using it on your own. While it may make you temporarily better at something, when you are playing around with hormones, you have no idea how that will affect you later. By the way, PROVEN age-slowing treatments are a healthy diet and exercise – these are absolutely fool proof.
Continue Learning about Androgen