Azmacort is a medication called an inhaled corticosteroid—what it does is reduce the inflammation from asthma within the lungs. You inhale the medication and it goes into your bronchial tree system (think of it as an upside down apple tree and the bronchi are the tree branches). In the bronchial system, the medication works on the excess mucous that has accumulated and has caused you to cough and not breath as well as usual. It decreases the mucous as well as keeps the bronchial tubes from having a lot of spasms, and thus, it lowers your coughing and improves your breathing. The benefits of this type of medication can take up to a week to truly feel.
The following contains useful information about steroid-based asthma medications.
Aerobid
Aerobid is intended for long-term prevention of asthma symptoms, not emergency treatment. The medicine, an inhaled steroid called flunisolide, will not work fast enough to open your airways and help you breathe if you are in the middle of an asthma attack. For immediate relief, use a rescue inhaler, which contains fast-acting medication.
If you have questions about effective fast-acting medicines, ask your doctor or pharmacist.
Aerobid is no longer available. CFC-containing inhalers, including Aerobid, will be removed from the U.S. market by the FDA. June 30, 2011, is the last date that Aerobid will be manufactured, sold or dispensed in United States.
Aerospan
Do not use Aerospan to stop an asthma attack. The steroid drug in Aerospan HFA can help prevent asthma symptoms over the long term, but it is not an emergency treatment. The medicine will not work fast enough to help you if you are having an asthma attack. For immediate relief, you need fast-acting medication, like the drugs in a rescue inhaler.
It can take two to four weeks for the Aerospan's maximum benefits to kick in. Some people experience severe breathing problems right after using their Aerospan inhaler (this happens most often with the first dose from a new inhaler). If that happens, use your rescue inhaler right away and seek medical care at once.
If after four weeks of using Aerospan, you do not see any change in your symptoms or think they are getting worse, contact your health care provider.
Azmacort
Azmacort treats bronchial asthma by reducing inflammation and swelling in the lungs. It also reduces the production of phlegm. You may also notice the reduction in other symptoms associated with asthma.
QVAR
QVAR (beclomethasone) is not a fast-acting inhaler that will stop or treat an asthma attack that's already in progress. Rather, QVAR is designed to help lower the number of asthma attacks a person suffers over the long-term.
The inhaled corticosteroids (ICS) you take for your asthma are quite safe, even for young children. These steroids are different from the anabolic steroids that some bodybuilders use to build muscle. They won't make you more muscular or more violent—but used correctly, they will help you control your asthma.
As with any medication, there are possible side effects to corticosteroids, but benefits for asthma control far outweigh the risks, especially in children. Untreated asthma can slow a child's growth, cause lung damage and make daily living very difficult. Once a child's asthma is controlled, the doctor will make sure the dose of ICS is the smallest dose needed.
Parents are fearful of steroids because athletes give them a bad name. Let's get this perfectly clear: The only thing your child's asthma medicine has in common with "performance enhancing" drugs is the name. Your child's medicine is an anti-inflammatory corticosteroid, derived from the adrenal cortex, the outer layer of the adrenal glands. It won't enlarge any body parts or grow hair where it shouldn't be.
They are not the same as anabolic steroids, which turn 97-pound weaklings into the Incredible Hulk or Jose Canseco, and are derived from testosterone.
Both inhalers and steroids work on asthma, but they are not equal treatments. The inhaler is a stronger drug, which provides a jolt to the system that over time will hurt you. Then, too, there's the cumulative damage to the lungs from repeated inflammation. The steroid keeps this at bay by staving off the inflammation. Regardless, anything that sends you to an emergency room three or four times a year can't be good for you.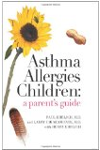 More About this Book
Asthma Allergies Children: A Parent's Guide
Asthma and allergies are at epidemic proportions. It doesn't have to be that way. Two experienced pediatric allergists tell everything a conscientious parent needs to know about these conditions,...
Continue Learning about Anabolic Steroid