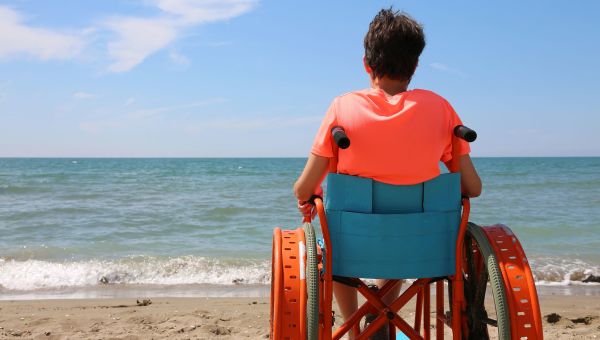 Amyotrophic lateral sclerosis (ALS) is a rare neurodegenerative disease.
A few years ago, you may have been captivated by viral videos, Facebook callouts and images of local celebrities, like Jake Shimabukuro or Lee Ann Wong, all doing the same, seemingly irrational thing—dumping a bucket of ice over their heads. This 2014 social media stunt is often remembered for its entertainment value, but it was meant to convey a deeper message. The so-called Ice Bucket Challenge was created to raise awareness and money for amyotrophic lateral sclerosis (ALS).
ALS is a neurodegenerative disease. It slowly kills the body's motor neurons, leading to weakened muscles, paralysis and eventually death. ALS is also commonly called Lou Gehrig's disease, named after the famous Yankee's baseball player who was forced to retire after he was diagnosed with the disease in 1939.
Many people diagnosed with ALS die from respiratory failure due to weakened muscles roughly three to five years after they are diagnosed. About 10 percent of those with the disease will live for 10 years or longer. There are drugs to help manage ALS symptoms and prevent complications, but there is presently no cure.
A rare disease with unknown origins
Though deadly, ALS is extremely rare. There are about seven cases per 100,000 people in the state according to Terryn Davis, occupational therapist and regional ALS care manager for Hawaii for the ALS Association's Golden West Chapter. Nationally, there are between 5,760 and 6,400 new cases each year, and it's estimated that there are between 12,800 and 19,800 people living with the disease in the United States. Davis works with about 70 ALS patients around Hawaii.
When it comes to ALS, there are still more questions than answers. Doctors aren't sure exactly what causes ALS, but there are more than a dozen genetic mutations that may contribute to the disease. In most cases, however, a genetic risk factor isn't clear, suggesting that other external forces may be involved, according to Davis.
"[For] 10 percent of people with ALS, it's familial, genetic [and] 90 percent is sporadic," Davis says. This means the majority of cases do not have a discernable genetic cause. Some research indicates there may be environmental factors that play a role in the development of the disease and how quickly it progresses.
"We have about 30 genes that are linked to ALS," explains Davis. "So, one theory is that many people have the genes, but when something happens, an event or they're talked out in regards to chemical or metal exposure, or something—that kicks off the gene that starts the ALS."
Environmental factors linked to ALS
Some of the environmental factors that have been studied as possible risk factors for ALS include chemical contaminants that have been detected in local marine life, which may be particularly troubling for Hawaii residents. Research is still needed to determine if these chemicals actually cause ALS.
Although more research is needed, some suspected environmental factors for ALS include persistent organic pollutants, smoking, beta-methylamino-l-alanine, warfare, pesticides, exercise, viruses and toxins such as heavy metals, radiation, electromagnetic fields and solvents. Also on the list of possible contaminants are polychlorinated biphenyls, or PCBs—man-made chemicals that were used industrially in the US until they were banned by the U.S. Environmental Protection Agency (EPA) in 1979.
On Oahu, fish caught in the Marina Area and Fuel Pier at the Kaneohe Marine Corps Base Hawaii (MCBH) have tested positive for potentially harmful levels of PCBs. Small samples of sediment in the area also had PCB levels above EPA and Hawaii Department of Health (DOH) standards. As a result, the DOH recommends that residents avoid eating any seafood caught there. The report noted that eating a single meal from fish caught in waters off of MCBH likely wouldn't be harmful, but repeat exposure could lead to medical complications linked to PCBs.
According to a 2006 study from the National Institute for Occupational Safety and Health, PCBs may be associated with some cancers and neurological diseases. Recently, a 2019 study, led by Eva Feldman, MD, at the University of Michigan in Ann Arbor, found that people with higher levels of PCBs and other environmental pollutants had a faster progression of the disease. For the study, the researchers tested the blood of 167 people with ALS for these pollutants. They found that the participants with the highest blood levels of PCBs and other pollutants lived for an average of 1 year and 11 months, while those with the lowest levels survived for an average of 2 years and 6 months.
Perhaps even more distressing to Hawaii residents is research, which suggests that eating large quantities of seafood with high mercury content was associated with greater odds of having ALS, according to information presented in 2017 at the American Academy of Neurology's annual meeting in Boston. Scientists monitored the seafood intake of 294 patients with ALS and 224 people who did not have the disease. They also measured the mercury concentrations in their toenail clippings. They found that the participants who routinely ate seafood and were in the top 25 percent for annual mercury consumption had twice the risk of developing ALS than those who did not eat as much mercury-rich seafood. The study used a relatively small sample size, so larger studies are still needed to confirm any correlation.
Some local favorite fish that tend to have high mercury content include swordfish, shark and kajiki. The larger the fish is, the greater its mercury content is likely to be. That doesn't mean you should stop eating seafood though as it's still a healthy source of omega-3 fatty acids and may be a cheap protein source for local fishermen. According to the USDA's Dietary Guidelines for Americans 2015-2020, you should stick to eating seafood about two to three times, or 8 to 12 ounces, per week.
More research on the health effects of PCBs and mercury is needed. Scientists are still working to understand how exposure to these contaminants is linked to ALS.
ALS in military service members
One group of people at particular risk of developing ALS has a big footprint in Hawaii—military service members. "The military is twice as likely to get ALS than anybody else," says Davis.
There are about 48,000 active duty and reserve service members across all branches of the military stationed in Hawaii, primarily on Oahu. It is unknown why military service members have higher ALS rates although some theories include chemical exposure and physical exertion from training. Harvard University studies from 2005, 2009 and 2015 showed that veterans from all eras and branches had higher rates of the degenerative disease. It's unclear if these increased risks may also apply to civilians working for the armed services.
Putting aloha in ALS
ALS is an incurable disease, but there are resources available for Hawaii residents. "Luckily, there's aloha here, and that really helps so much," says Davis. "People here are so fantastic and go above and beyond for a stranger."
In addition to the ALS Association Golden West Chapter, the ALS Ohana of Hawaii and ALS Foundation of Hawaii serve the community. All three organizations work to improve the lives of people living with ALS in Hawaii.
Davis points out that having the highest level of care could extend the lives of those with ALS by as much as nine months. Be sure to talk to your doctor about the best treatment options and medical facilities in your area.
Davis also advises patients to be proactive. "The way to go is to educate the patients, so that they can go and advocate for themselves," she says.
People with ALS can do more than they might expect according to Davis. "The really important thing is that if we can just teach people that they don't have to be bedridden, we can get them in wheelchairs, then that wouldn't be a problem," she says. "There is that shame factor, which is silly. And they're scared. It's really scary for them because they are totally dependent on a machine and another human being, and to get out in the community is very scary." She points out that people with ALS shouldn't stop living after being diagnosed with ALS. She notes that many people with the disease—even those who are not able to walk or stand—can often still attend concerts, go to picnics, travel or do other things that they enjoy.
Medically reviewed in April 2019.