The first stage of Alzheimer's disease is before people manifest any kinds of problems. There are certain biological markers, which may be changes on a brain scan or certain chemical changes in the spinal fluid, that indicate symptomatic Alzheimer's disease may develop.
People in the early stages of this disease require the stimulation and interaction with others that all of us need to be a complete human being. Frequently, family and friends feel so uncomfortable themselves that they inadvertently isolate the individual and his or her caregiver, further exacerbating the stress of the disease. Reaching out is even more important than ever, especially because Alzheimer's affects one's ability to initiate.
Continue Learning about Alzheimer's Disease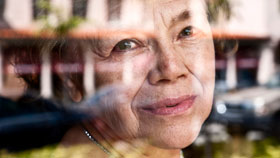 Alzheimer's disease is the most common type of dementia. Dementia is a brain disorder (damage to the brain cells) that causes loss of memory and makes it hard for people to care for themselves. Alzheimer's may also cause changes i...
n mood and personality.
More