There are two major forms of Alzheimer's disease:
Inherited Alzheimer's disease accounts for less than one half of one percent of all cases. This form of the disease generally starts in individuals in their forties, and those with this form of the disease generally die in their fifties or early sixties. Exactly fifty percent of the offspring of these individuals will also develop the disease, and genetic DNA testing can reveal whether a child of such an individual has that gene. This is a complex ethical question. Should such an individual be tested at an early age and thereby find out whether they will or will not develop the disease? Genetic counseling is definitely indicated in these situations.
Spontaneous Alzheimer's disease accounts for almost all other cases of Alzheimer's disease. The disease begins only rarely when someone is in their sixties, and more commonly starts when people are in their seventies, eighties and nineties. Age is the greatest risk factor for spontaneous Alzheimer's disease, i.e. the risk increases with advancing age, and family history plays only a relatively minor role.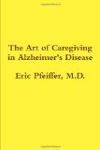 More About this Book
The Art of Caregiving in Alzheimer's Disease
This is an A to Z Guide to the caregiving experience in Alzheimer's disease. It is easy to read, easy to follow. It is authorative, based on thirty years of experieReconce in caring for Alzheimer's...
Continue Learning about Alzheimer's Disease