If your loved one is unwilling or unable to admit that change is coming, i.e., if he or she is in denial, the job becomes a lot harder. I have seen quite a few people, particularly people who have been powerful and prominent in their community, reject any admission that something is wrong, and then of course both of you are in real trouble. Your loved one won't avail himself or herself of the treatment that is needed, and preparation for the future will not take place. Consult with the doctor about how this might best be overcome, or, if you are already attending a caregiver support group, (which we will discuss shortly) ask your peers in the group how they may have overcome a similar problem.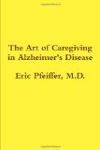 More About this Book
The Art of Caregiving in Alzheimer's Disease
This is an A to Z Guide to the caregiving experience in Alzheimer's disease. It is easy to read, easy to follow. It is authorative, based on thirty years of experieReconce in caring for Alzheimer's...
It can be life-shattering when people obtain a diagnosis of dementia, especially in the earlier stages when they better understand what is happening. Their greatest fears are materializing. As a result, there could be a grief reaction -- a trauma-like state that occurs in response to the losses they are facing. It is easier to say, "There is nothing wrong with me," than to actually admit the truth.
What makes this tricky is that people with dementia may no longer have the proper coping mechanisms to appropriately process the grief—to work through the denial and accept the situation. Living in denial can obstruct the ability to recognize problems and interfere with their ability to successfully manage daily living activities, self-care and independent living.
Sometimes, denial can end when a person has collected overwhelming evidence for the truth -- often as a result of worsening conditions or intervention by a skilled therapist or doctor. If possible, share selected reading material about the disease and use videos to reinforce points you are making. Always reassure your loved one that you will take care of him/her.
There is no guarantee that your loved one will understand or accept his/her new condition. With acceptance, he/she may also accept your gifts of help, participate in planning about future care, financial issues, and other concerns, and be more likely to experience contentment in daily routines.
Depending on how far along people are in the disease process, it might be impossible to grasp the fact that they have Alzheimer's disease. Since one of the first regions of the brain to be damaged is the portion that affects short-term memory function, people with the illness are not capable of remembering that they have been repetitious or confused lately.
Therefore, they may not have any recall about a diagnosis of Alzheimer's disease no matter how many times you say it. In fact, each reminder may only set the stage for an argument. Trying to convince them that they have dementia and need help tends to backfire since their limited judgment and reasoning skills interfere with rational thinking.
While self-awareness can be useful—for example, giving a caregiver a basis for discussion about the individual's long-term care wishes, and legal and financial planning—ultimately, convincing someone that he or she has Alzheimer's disease may not be so important.
Continue Learning about Alzheimer's Disease