There can also be some disadvantages to participation in clinical studies:
Not everyone wishing to participate may be eligible, as criteria for participation vary. Individuals with certain illnesses or those taking specific medications may be excluded.
Clinical studies are generally "randomized, double blind, placebo controlled" studies. What this means is that your loved one may be on a placebo (inactive) medication for a portion of time in the study. Neither you nor your loved one will know whether or not they are actually getting the active medication until the end of the study.
Since medications in these studies have not yet been approved for this use, there is the possibility of adverse side effects. However, be assured that those in such studies are very closely monitored for the occurrence of any side effects. On the whole, advantages of participating in clinical studies far outweigh any of the disadvantages. And you and your loved one may have the distinction of making a real contribution to discovering a new treatment for Alzheimer's disease.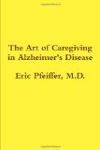 More About this Book
The Art of Caregiving in Alzheimer's Disease
This is an A to Z Guide to the caregiving experience in Alzheimer's disease. It is easy to read, easy to follow. It is authorative, based on thirty years of experieReconce in caring for Alzheimer's...
Continue Learning about Alzheimer's Disease