To find a clinical study for Alzheimer's disease on the internet go to ClinicalTrials.gov, a searchable database of nationally registered trials on all types of diseases. The website has details about the trial, such as who can participate and how to get involved.
Clinical studies on Alzheimer's disease are being conducted in multiple research centers across the US, and one or another of these may be taking place in your community. You can locate such studies by going on the internet, and using such search engines as Google.com or Bing.com, and entering the phrase "Alzheimer's disease, clinical studies." Your doctor may also be aware of where these studies are conducted, or you can contact a chapter of the Alzheimer's Association in your community.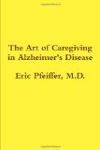 More About this Book
The Art of Caregiving in Alzheimer's Disease
This is an A to Z Guide to the caregiving experience in Alzheimer's disease. It is easy to read, easy to follow. It is authorative, based on thirty years of experieReconce in caring for Alzheimer's...
Continue Learning about Alzheimer's Disease