One insightful person describing the experience of someone caring for an Alzheimer's patient called it "The Long Good- Bye." Undoubtedly, over the course of the months and years that you have seen your loved one lose characteristics and abilities that you once cherished, you have in fact been saying good-bye to him or her right along. However, when the time comes that your loved one actually dies, you will be surprised that you will be faced with a new kind of loss, a new kind of grief, based on the finality of that moment. There will be no one to visit, no one's hand to hold and no one's brow to stroke. The loss will be quite devastating all over again.

If you are like most people, it is likely that, along with your grief, you will also feel a certain amount of relief over the fact that your loved one is now at peace, and that your task as a caregiver has come to an end. That is as it should be. Some people feel guilty for having this sense of relief. But this relief is entirely normal, and not anything for which you should feel guilty. You can be proud for all that you have done, knowing that you made a positive difference in the life of your loved one, at a time when they most needed it. You have been a good and faithful servant, and it is now time for this chapter of your life to end, to close the book on caregiving, to be grateful for having been able to be of service in ways that mattered profoundly. It is now time to celebrate the life that has been laid to rest, and the affection and the commitment between you and your loved one, the likes of which will not come again. It is finished. Of course, life goes on, even when it doesn't. You will be occupied with funeral arrangements, obituaries to be published, memorial services to be arranged, death certificates to be obtained and to be distributed to all those requiring them—important things to accomplish, but nothing compared to the relationship you once had. It will be a time of remembering and a time of grieving.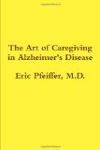 More About this Book
The Art of Caregiving in Alzheimer's Disease
This is an A to Z Guide to the caregiving experience in Alzheimer's disease. It is easy to read, easy to follow. It is authorative, based on thirty years of experieReconce in caring for Alzheimer's...
Continue Learning about Alzheimer's Disease