Alzheimer's disease is the most common dementia in older people in America. It is believed that damage to the brain begins 10 to 20 years before the onset of dementia. With that knowledge in mind, it is now thought that addressing the disease at its earliest stages is key to staving off dementia. "Ultimately it will be easier to protect a healthy brain rather than try to repair the brain once damage sets in," says Gary Small, MD, director of the UCLA Center on Aging.
Continue Learning about Alzheimer's Disease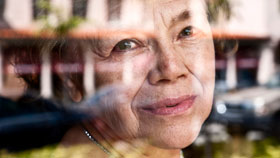 Alzheimer's disease is the most common type of dementia. Dementia is a brain disorder (damage to the brain cells) that causes loss of memory and makes it hard for people to care for themselves. Alzheimer's may also cause changes i...
n mood and personality.
More