It is difficult to tell how early Alzheimer's disease damages the brain because the diagnosis of Alzheimer's disease is largely based on the person's history and physical examination. The only way to prove the disease diagnosis is by obtaining brain tissue after death and looking at it under a microscope. Diseased brain tissue has characteristic abnormal proteins which are the hallmark of Alzheimer's dementia. These are not visible by current x-ray and magnetic resonance imaging (MRI) capabilities. There are some emerging techniques such as positron emission tomography (PET) scans, which may help diagnose the disease earlier. What is apparent from population studies is that there is likely a lengthy period of time from the beginning of damage to the brain to the time that clinical symptoms appear, possibly many years long.
Alzheimer's disease is the most common dementia in older people in America. It is believed that damage to the brain begins 10 to 20 years before the onset of dementia. With that knowledge in mind, it is now thought that addressing the disease at its earliest stages is key to staving off dementia. "Ultimately it will be easier to protect a healthy brain rather than try to repair the brain once damage sets in," says Gary Small, MD, director of the UCLA Center on Aging.
Continue Learning about Alzheimer's Disease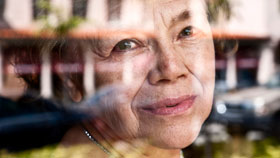 Alzheimer's disease is the most common type of dementia. Dementia is a brain disorder (damage to the brain cells) that causes loss of memory and makes it hard for people to care for themselves. Alzheimer's may also cause changes i...
n mood and personality.
More