One of the first parts of the brain affected by Alzheimer's is the olfactory cortex, which is responsible for our sense of smell. If your ability to identify scents diminishes, it may mean more than just sinus issues.
Here's a simple test. Have a friend lay out the following 12 scent items: strawberry, smoke, soap, peppermint, clove, pineapple, natural gas, lilac, lemon, leather, rose, and cherry. If you cannot identify at least 9 of the 12 items by smell, talk to your doctor.
This content originally appeared on
doctoroz.com
Although Alzheimer's does affect the sense of smell, the use of aromatherapy does help people with Alzheimer's, and anyone, to relax. Both lemon and lavender scents act on the part of the brain to relax an individual even if the ability to detect odors has diminished.
Research suggests that loss of smell be an early indicator of Alzheimer's disease. People with Alzheimer's are already known to suffer from loss of smell. But the new research pinpoints a direct link between development of amyloid plaques and a worsening sense of smell. In the study, the mice tested with the plaques had to spend more time sniffing odors to remember them, and they had a hard time telling the difference between odors.
Continue Learning about Alzheimer's Disease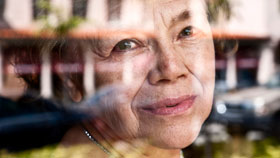 Alzheimer's disease is the most common type of dementia. Dementia is a brain disorder (damage to the brain cells) that causes loss of memory and makes it hard for people to care for themselves. Alzheimer's may also cause changes i...
n mood and personality.
More