In the early stages of Alzheimer's disease someone with Alzheimer's disease is still capable of making a will or of amending an existing will. This is so because the legal requirements for making a valid will are relatively simple. The person making a will must understand that they are making a will and that the making of a will generally relates to the distribution of the property and valuables after they have died; the person must also know and understand what is called in legal terms "the natural objects of their bounty." That means the person must be aware who his family members and close friends are, and whether the person wishes to bequeath part of all of their possessions to those persons. The third requirement is that the person understands the nature and location of their properties, valuables and so on. However, because wills of persons with Alzheimer's disease are often contested on the basis that the person no longer understood what they were doing, or that undue influence was used to obtain a specific will provision, the fact and circumstances of a will being drafted or amended by a person in the early stages of the disease should specify how and where the will was made, who was in attendance, that there was medical certification that the person was still capable of making such a will or amendment to the will. After the early stages of Alzheimer's disease, it is advisable that no new wills be created and that no significant amendments to an existing will be made. This also reinforces the general advice that wills be made and amended in a timely fashion, when all physical and mental capabilities are still intact.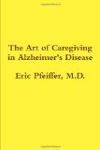 More About this Book
The Art of Caregiving in Alzheimer's Disease
This is an A to Z Guide to the caregiving experience in Alzheimer's disease. It is easy to read, easy to follow. It is authorative, based on thirty years of experieReconce in caring for Alzheimer's...
Continue Learning about Alzheimer's Disease