A small proportion of patients with Alzheimer's disease may experience seizures solely as a result of the advancing Alzheimer's disease. If someone has seizures, a medical workup for other causes of seizures, such as tumors or strokes, should be carried out. But if no other causes are found, the patient should be treated with anti-seizure medications, such as the drug Dilantin or a similar drug prescribed to minimize the risk of recurrence of seizures.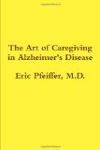 More About this Book
The Art of Caregiving in Alzheimer's Disease
This is an A to Z Guide to the caregiving experience in Alzheimer's disease. It is easy to read, easy to follow. It is authorative, based on thirty years of experieReconce in caring for Alzheimer's...
Alzheimer's disease (AD) can cause seizures. Approximately 10 percent to 20 percent of people with AD will have seizures. In general, seizures occur later in the disease process. The seizures are less likely to be generalized grand mal seizures, and more likely to be partial petit mal seizures.
Continue Learning about Alzheimer's Disease